PAS is an archive of World Performance where artists and theorists send their material in video, photography and writings to be published on this site.
PAS es un archivo de Performance Mundial donde los artistas y teóricos envían su material en video, fotografía y escritos para ser publicados en este sitio.
PAS est un archive de Performance Mondiale ou les artistes et Théoriques envoient son matériel sous format vidéo, photo et texte pour être publie sur ce site d'internet.
Open Performance Inauguraciones
2008
----------------------------------
----------------------------------
María Teresa Hincapie
----------------------------------
Perfomagia
6th International Performance Art Festival

Sala Convegni -Teatrino della Villa Reale di Monza

H.P.M. Art Director: Nicola Frangione

Via Ortigara 17, 20052 Monza  italy

e-mail: nicola.frangione@tin.it      www.nicolafrangione.it

www.hartaperformingmonza.it

Poetic performance and Action Art


Over the past 30 years, Action Art found fertile fields of confluence between the experimentation on vision and gesture and poetic-visual sound dramaturgy. Most of this research was characterized by the connection between Performance Art , "total poetry" and the nomadism of the performer that restlessly shifts through linguistic fields just like through geographic territories and varied socio-cultural circles. This year Harta Performing stresses the concept of nomadism perceived as the key element in the performer work. In the theoretical intervention opening the fifth edition of the festival, great attention will be given to the dialectic of relationships "between spiritus and corpus, subject and object, imagination and reality, thought and action, private and public, local and global, specific and total, project and performance". As stated by Giovanni Fontana "on these oppositions, a fluctuating dynamics takes shape, it holds up the energy and matter continuum in which action is strenuously built. The body energy is used to get rid of imposed references and directions and to generate new situations; it continuously breaks the temporary balances and favours the construction of interlinguistic and intermedial systems that influence the dynamics of the elements involved."


The international festival "ART ACTION - Harta Performing Monza", unanimously considered one of the most interesting events in the framework of international Art innovation, is a significant point of reference for cultural exchange. After the success of the previous editions, this year the festival offers to the city of Monza not only a comparison between the new arts but also an opportunity to reflect on one of the most pressing and thrilling issues of the theoretical debate: the meaning and the creation techniques of the "plural work", true action field of the polyartist, "who can play his cards right between poetry and cinema, theatre and music, dance and visual arts". 


Ore 21 introduzione critica di:


Beniamino Vizzini e Marianna Montaruli (italia)


Ore 21,30 -24,00 performances programma con:


Monika Gunther (Germania),


Ore 21,00 -24,00 performances programma con:


 Fabien Montmartin (Francia),


Stanislaw Piotr Gajda (Polonia)


Ore 21,00 -24,00 performances programma con:


Myriam Laplante (Canada),


Michela Montrasio (italia)


Massimo Arrigoni (italia)


Objetual
OBJETUAL: a pillow travels through Performance Art
2 days of performances at the Museo de Bellas Artes (Caracas, Venezuela)

On Friday 4 and Saturday April 5, 2008 at the Experimental Hall of the Museo de Bellas Artes, beginning at 5 pm, will be presenting the project OBJETUAL: Performance Art Event, with 11 venezuelan performance artists: Ignacio Pérez, Katerina Ríos, Esmelyn Miranda, Kevin Orellanes, Julián Higuerey, Renny Barrios, Consuelo Méndez, Aidana Rico, Marcos Mujica, Fidel Pirona and Macjob Parabavis. This event is the result of a previous process in which artists coexisted each one separately, 3 days and 3 nights, with a common object, a pillow.

OBJETUAL, an original idea by Leonardo González, a chilean performance artist and psychologist, is a performance art project which takes place in sequence in America and Europe countries, and propose the use of a single object of art (a pillow) to be resignificated by participating artists. This proposal consist in the deconstruction of the original meaning of the object to rebuild, individually and / or collectively, new readings of it. In every event of each country, participating artists will use the same object, stablishing its subjective perception according to the personal reading attached to the conceptualization and realization of his work. The resulting artwork will be filled with symbologies that for its diversity, may oppose or complement each other.

The methodology of this project is that every participating artists, establish a coexistence with the pillow for three days and nights. During this time, each artist research the pillow's properties as: the physical (morphological, senso-perceptives) psychological (emotional, memory), cultural (religious, social, family, sex) and symbolic. The place of coexistence is the everyday space of the artist (house, street, work, etc.). The whole process of coexistence must be documented. It's from this experience, where the artist design his proposal. Each participating country will have the same methodology, giving to this pillow their own personal and cultural meanings, thus allowing OBJETUAL as performance on itself developed into a prolonged time and space.

The project OBJETUAL began in 2005 with it first event in Chile called OBJETUAL Valparaiso, with the participation of renowned chilean performance artists. In 2006, the second event called OBJETUAL Belo Horizonte was realized in Brazil. In 2008, the pillow was received in Caracas, Venezuela for Aidana Rico and Ignacio Perez who, through their project Performancelogía (www.performancelogia.com), organized the third event OBJETUAL Caracas with the participation of eleven venezuelan performance artists.


OBJETUAL: Performance Art Event
4th & 5th April, 2008
Sala Experimental
Museo de Bellas Artes
Caracas, Venezuela


More information:
www.performancelogia.com /objetual

To download the program:
www.performancelogia.com/objetual/objetual_impreso_informativo.pdf

PERFORMANCELOGÍA
Todo sobre Arte de Performance y Performancistas

Recopilación, Publicación, Difusión e Intercambio
de Documentación sobre Arte de Performance y Performancistas

Web: www.performancelogia.com
Boletines: http://groups.google.com/group/performancelogia
Colaboraciones: performancelogia@gmail.com
Intercambios: Av. Urdaneta, Edificio Ipostel.
Apartado Postal: 5048. Caracas, Venezuela.

Si deseas recibir nuestro Boletín Informativo,
regístrate a través de nuestra dirección:
http://groups.google.com/group/performancelogia
OBJETUAL: una almohada que viaja por el Arte de Performance
2 días de performances en el Museo de Bellas Artes


Los días viernes 4 y sábado 5 de Abril de 2008 en la Sala Experimental del Museo de Bellas Artes, a partir de las 5 de la tarde, se estará presentando el proyecto OBJETUAL: Muestra de Arte de Performance, con performances de los artistas venezolanos Ignacio Pérez, Katerina Ríos, Esmelyn Miranda, Kevin Orellanes, Julián Higuerey, Renny Barrios, Consuelo Méndez, Aidana Rico, Marcos Mujica, Fidel Pirona y Macjob Parabavis. Esta muestra es el resultado de un proceso previo en el que los artistas participantes convivieron 3 días y 3 noches, cada uno por separado, con un objeto en común, una almohada.

OBJETUAL, idea original del artista de performance y psicólogo chileno Leonardo González, es un proyecto de Arte de Performance que se realiza en cadena por países de América y Europa, y que propone la utilización de un mismo objeto de arte para ser resignificado por los artistas participantes. Tal propuesta consiste en desconstruir el significado original del objeto para reconstruir, de manera individual y/o colectiva, nuevas lecturas sobre él. Durante cada muestra de cada país, los artistas participantes utilizarán el mismo objeto, estableciendo cada uno su percepción subjetiva de acuerdo a la lectura personal otorgada a la conceptualización y realización de su obra. El objeto de arte resultante estará provisto de simbologías que por su diversidad podrán oponerse o complementarse.

La metodología de este proyecto consiste en que cada uno de los artistas participantes de cada país establece una convivencia con la almohada por un tiempo de tres días y tres noches. Durante esta convivencia, cada artista investiga las propiedades físicas (morfológicas, sensoperceptivas) psicológicas (emocionales, de la memoria), culturales (religiosas, sociales, familiares, sexuales) y simbólicas de la almohada. El lugar de la convivencia es el espacio cotidiano del artista (casa, calle, trabajo, etc). Todo el proceso de la convivencia debe ser documentado. Es a partir de esta experiencia que cada artista diseña su propuesta de performance por escrito. Cada país participante desarrollará la misma metodología diseñada para esta muestra, dotando a esta almohada con sus propias significaciones personales y culturales, permitiendo así que OBJETUAL sea una performance en sí misma desarrollada en un tiempo y espacio prolongado.

El proyecto OBJETUAL inició en 2005 con su primera muestra en Chile, OBJETUAL Valparaíso, organizada por Leonardo González, con la colaboración de Paula Lisboa y PerfoPuerto, contó con la participación de reconocidos artistas de performance chilenos. En 2006, la segunda muestra OBJETUAL Belo Horizonte fue realizada en Brasil, organizada por Marco Paulo Rolla, con la participación de

En 2008, la almohada fue recibida en Caracas, Venezuela por Aidana Rico e Ignacio Pérez quienes, a través de su proyecto Performancelogía, organizan la tercera muestra OBJETUAL Caracas con la participación de once artistas venezolanos.


OBJETUAL: Muestra de Arte de Performance
Viernes 4 y Sábado 5 de Abril de 2008
5:00pm / Proyección de Documentación
6:00pm / Presentación de Performances

Sala Experimental
Museo de Bellas Artes
Caracas, Venezuela


Para más información, visite el sitio web:
www.performancelogia.com/objetual

Descargue el programa informativo:
www.performancelogia.com/objetual/objetual_impreso_informativo.pdf


PERFORMANCELOGÍA
Todo sobre Arte de Performance y Performancistas

Recopilación, Publicación, Difusión e Intercambio
de Documentación sobre Arte de Performance y Performancistas

Web: www.performancelogia.com
Boletines: http://groups.google.com/group/performancelogia
Colaboraciones: performancelogia@gmail.com
Intercambios: Av. Urdaneta, Edificio Ipostel.
Apartado Postal: 5048. Caracas, Venezuela.

Si deseas recibir nuestro Boletín Informativo,
regístrate a través de nuestra dirección:
http://groups.google.com/group/performancelogia
----------------------------------
CONTAMINATE 3 \\\\

PERFORMANCE! VIDEO! INSTALLATIONS!
Friday and Saturday, April 4th & 5th 2008 at Midway Studios
7pm both nights --- sliding scale donations encouraged…
TEST and The Present Tense cordially invite you to the third annual Contaminate festival of performance art. Showcasing the work of over 25 artists, the festival will take place at the Midway Studios building, located at 15 Channel Center Street in Boston's Fort Point. The live art works will be presented over the two nights, with a different line up each night; videos will be shown both nights in a screening room.
Midway Studios is accessible via public transportation at South Station on the red line.

Visit www.contaminate-festival.com for detailed directions, maps, and more show info!
The Artists: Contaminate will feature performances or installations by the following artists:
Nick Buffon (Boston, MA)
Robert Ladislas Derr (Ohio)
Peter Dobill (NY, NY)
Lalie Douglas (Canada)
Deva Eveland (Chicago, Illinois)
Travis McCoy Fuller (Boston/Rome)
Peter Grzybowski (NY, NY)
Sandy Huckleberry (Boston, MA)
Faith Johnson (Boston, MA)
Mike Keller (AZ)
Kristina Lenzi & Mari Novotny-Jones (Salt Lake City, UT/Boston, MA)
Qfwfq duo (MA)
Vicky Sabourin (Quebec)
Genevieve Sideleau (Quebec)
Malcolm Smith (CA)
Artur Tajber (Krakow, Poland)
Maya Urbanowicz (Boston, MA)
Paul Waddell (CA)
Willem Wilhelmus (Helsinki, Finland).
A separate screening room will be showing video works by:

Rachelle Beaudoin (New Hampshire)
Paul Carter and Alexandra Zierle (Falmouth, UK)
Erin Donnelly (Boston)
Linda Ford (San Francisco)
Heather Kapplow (Boston)
Christopher Robbins (New York/Serbia)
Kate V. Robertson (Glasgow,UK)
Tony Schwensen (Australia)
Alejandro Uranga (Mexico/Spain)
senVoodoo:AñA Wojak & Fiona McGregor(Australia)
Justene Williams (Australia)

TEST and The Present Tense – tag-teaming it since '06
Contaminate 3 has been made possible through a grant from the LEF foundation and support from Mobius, High Output, Midway Studios and the School of the Museum of Fine Arts.
----------------------------------
THE WHITE SERIES NEW PROJECT BY MARIA JOSE ARJONA
----------------------------------
GALERIA
SPAZIO ZERO
EN FONDO OBRA RECIENTE DE LOS ARTISTAS:

AGLIALORO & SCHUSTER & ZAJAC

HORARIO DE ATENCION:

MARTES - VIERNES: DE 2 A 6 pm.

SABADO - DOMINGO: DE 11 am. a 2 pm.

FUNDACIÓN SPAZIO ZERO

6a. transversal, entre 4a. avenida y San Juan Bosco, Qta. Belén, Altamira.
(frente a la Plaza Miranda, diagonal a la Clínica El Ávila).
Tlf.: (0212) 2635338
spazio-zero@cantv.net
spaziozero@gmail.com

Directores:
Marcela Navea
Manolo Zapico



Horario expositivo:


Martes a viernes de 2:00 a 6:00 pm
Sábados y domingos de 11:00 am a 2 pm

Video and Performance Festival

CEC & CAC - Carnival of e-Creativity & Change-agents Conclave 2008
Shankar Barua curator

DOVE/WHERE: New Delhi India International Centre
(Main Auditorium - Conference Room #2 - Gandhi-King Plaza - Rooftop Pergola)
QUANDO/WHEN: February 15-16-17, 2008
Patronage: India International Center New Delhi
The Academy of Electronic Arts

Artisti internazionali e selezioni dai festival / International artists, and
compilations from festivals:
Transmediale, Epica Awards, VIDA 9.0, NewMediaFest2007
GLOBAL ART-VIDEO organized by THE DIGITAL GALLERY,
PACE UNIVERSITY (NEW YORK USA),
NATIONAL CENTRE FOR CONTEMPORARY ARTS (MOSCOW. RUSSIA),
HEART ELECTRONICO (MEXICO), NAMASTIC (HELSINKI / FINLAND),
COLECTIVO D_FORMA (SPAIN), LA SALA NARANJA (SPAIN),
VIDEOART CENTER TOKYO / VCTOKYO (JAPAN),
Retrospective of Select Digital-Still-Imaging Artists from
The IDEA series of CD-Gazettes (2000-2005).

Tra gli artisit / Among the artists: SHRIKANT AGAWANE, ADITYA ANAND, CURTIS
BAHN,
SHANKAR BARUA, ANSUMAN BISWAS, JENNY BROWN, JONAH BRUCKER-COHEN,
CATERINA DAVINIO, ALEKSANDRA DULIC, ASHHAR FAROOQUI (AKA 'TOYMOB'),
PATRICK FONTANA, MARTIN GOTFRIT, MATTHEW "HARDOFF" JOHN DAVEY,
PARVEZ IMAM, ARUN JETHMALANI, AJAY KAPUR, ARUN MEHTA,
BRINDA CHUDASAMA MILLER, KATHERINE MORIWAKI, THOMAS MUNZ,
KENNETH NEWBY, APARNA PANSHIKAR, RUCHIRA PARIHAR, RISHAB PARMAR,
JEROME SOUDAN, FLORIAN THALHOFER, MARCO VILLANI,
BETTINA WENZEL, PRASHANT YASHPAL.


National Institute of Design, "Potpourri" (or "Retroforesight")
Brevi lavori realizzati da studenti e giovani artisti dell' Institute of
Design - Ahmedabad /
Short pieces created by students and young artists of Institute of Design -
Ahmedabad.
Ruchira Parihar Curator

:::::::::::::::::::::::::::::::::::::::::::
e-mail: davinio@tin.it
W: http://xoomer.virgilio.it/cprezi/caterinadav.html
----------------------------------
BCP&P galería | Benveniste Contemporary

Fernanflor 6, Bajo C
28014 Madrid [Spain]
Tel. [+ 34] 91 369 29 88
Fax [+ 34] 91 369 51 08
Federico Guzmán | La enredadera de la serpiente | A partir del 17 de Enero de 2008
Lunes a viernes de 10 a 14 h. y de 17 a 20.30 h. Sábados previa cita
----------------------------------
PORT PERFORMANCE WORKSHOP
21st of April - 6th of May 2008 in Tel Aviv, Israel
21 kwiecien - 6 maj 2008 w Tel Avivie, Izrael
21. April - 6. Mai 2008 in Tel Aviv, Israel
please scroll down for english version, wersja po polsku, deutsche Version

english version
The fourth Port Performance workshop will take place in Tel Aviv, Israel. In cooperation with PAP - Performance Art Platform (www.miklat209.org.il) we will have a direct access to the Performance Art scene in Israel. The so called "Holy Land" is a melting pot of different identities that creates in coexistence friendship and war. The diversity of nationalities, histories, cultures, religions, philosophies and emotions will mark our work, that surely will do a personal and artistical impact. This enormous potential we will research and use for our performative work and connect it to our own identity that will be mirrored during our stay.
The workshop will be given by the international Performance-artists and –teachers Angelika Fojtuch and BBB Johannes Deimling. The aim of the workshop is to work out an Art-Performance and its final public presentation. We will realize specifical exercises that will help to transform own ideas into a performative work. The center of the workshop focuses the perception of the own personality and the communication with the body. Own perception and selfexperiences characterize the feeling in dealing with body, time and space in performance art as well as in ordinary communication. To understand his body as a tool and to use this tool in his own communications is the main value of this workshop. Besides this artistical offer we give some cultural specials.
OFFER:
- develop an Art Performance with technical, pedagogical and artistical guidance
- performative exercises in various conditions, in- and outdoor (focus on: body, time, space, concentration, endurance, ... in groups and individual)
- final public presentation of the performance (media promotion and invitation card) and finishing celebration
- videodocumentation of the workshop (DVD, personal exemplar)
- documentation on PORT PERFORMANCE website
- contacts to artists, curators and art institutions in Israel
- meeting and cooperate with other like-minded people from other countries
- context of the place, israelian history and culture
- free accommodation in Tel Aviv (15 days)
- helping in booking the travel (searching for cheap flights)
● teaching language: english
● Price: (without travel and victuals) 560 € (910 CHF, 8800 EEK, 2000 PLN, 820 USD)
● The workshop will be advertised in various european countries and is open for all young peoples and young performers and art students (minimum age 18 years).
● The workshop take place at least with 8 participants.
● Application forms can be ordered by e-mail info@portperformance.net or by telephone 0049 (0)174 1434361, 0048 – 607206416
●Deadline for applications 31st of March 2008
wersja po polsku

Czwarte warsztaty Port Performance odbędą się w Tel Avivie, w Izraelu. We współpracy z PAP- Performance Art Platform (www.miklat209.org.il) będziemy mieć bezpośredni udział w izraelskiej scenie performance. Tak zwana "Ziemia Święta" jest tyglem różnych tożsamości tworzącym koegzystencje przyjaźni i wojny. Różnorodność narodowości, historii, kultur, religii, filozofii i emocji będzie wpływała na nasze artystyczne i osobiste doświadczenie. Ten ogromny potencjał będziemy eksplorować na użytek performatywnych poszukiwań i autorefleksji nad naszą własną tożsamością.

Warsztaty prowadzone będą przez międzynarodowy duet artystów performance i nauczycieli Angelike Fojtuch i BBB Johannesa Deimling. Celem warsztatów jest wypracowanie i przygotowanie własnego performance i jego finałowa, publiczna prezentacja. W ramach zajęć realizować będziemy zestaw ćwiczeń, które pomogą nam przekształcić własne idee w performatywną wypowiedź. Istota warsztatów skupiona jest na percepcji własnej osobowości i współpracy z ciałem. Rodzaj percepcji i doświadczenia charakteryzuje sposób odczuwania i traktowania ciała, czasu i przestrzeni w sztuce performance tak samo jak w zwykłej komunikacji. Zrozumienie i użycie własnego ciała jako narzędzia we własnej komunikacji jest podstawowym dążeniem warsztatów. Poza artystyczną ofertą zapowiadamy inspirującą przygodę kulturową.
OFERTA:
- doświadczenie w zakresie sztuki performance pod pedagogiczno-techniczno-artystycznym kierunkiem
- ćwiczenia performatywne w różnorodnych warunkach, w przestrzeni otwartej i zamkniętej (zagadnienia ciała, czasu, przestrzeni, koncentracji, wytrzymałości... indywidualnie i grupowo)
- finałowa, publiczna prezentacja performance (promocja w mediach, drukowane zaproszenia) oraz impreza pożegnalna
- dokumentacja video (DVD egzemplarz dla każdego uczestnika)
- tekst oraz dokumentacja fotograficzna na stronie PORT PERFORMANCE
- kontakt z artystami, kuratorami i instytucjami z Izraela
- spotkanie i współpraca z rówieśnikami z różnych krajów
- kontekst miejsca, historia i kultura Izraela
- bezpłatne zakwaterowanie w Tel Avivie (15 dni)
- pomoc w zorganizowaniu podróży (informacja o tanich liniach lotniczych)
● warsztaty prowadzone są w języku angielskim
● koszt: 2000 PLN, (560 €, 910 CHF, 8800 EEK, 820 USD), plus koszt podróży i wyżywienia
● warsztaty adresowane są do wszystkich osób zainteresowanych, oraz młodych performerów i studentów z różnych krajów (wiek minimum 18 lat)
● warsztaty odbędą się przy minimum ośmio-osobowej grupie uczestników
● formularz uczestnictwa w warsztatach dostępny jest przez internet, po zgłoszeniu się pod adres info@portperformance.net lub telefonicznie pod numer 0049 - (0)174 1434361, lub 0048 - 607206416
●ostateczny termin składania formularzy – 31 marzec 2008
deutsche Version
Der vierte PORT PERFORMANCE Workshop wird in Tel Aviv, Israel stattfinden. In Kooperation mit PAP – Performance Art Platform (www.miklat209.org.il) haben wir eine direkte Verbindung zur Performance Art Szene in Israel. Das sogenannte "Heilige Land" ist ein Schmelztiegel unterschiedlicher Identitäten, die in dem Zusammenleben Freundschaft und Krieg hervorbringen. Die Verschiedenartigkeit an Nationalitäten, Historischen Ereignissen, Kulturen, Religionen, Philosophien, und Gefühlen wird unsere Arbeit prägen und eine markante persönliche und künstlerische Wirkung hinterlassen. Dieses enorme Potential werden wir untersuchen, für unsere performative Arbeit nutzen und diese mit unserer Identität verbinden, die sich während unseres Aufenthaltes in uns selbst wiederspiegeln wird.
Der Workshop wird von den internationalen Performance Künstlern und -Lehrern Angelika Fojtuch und BBB Johannes Deimling. Ziel des Workshops ist die Erarbeitung einer Kunst Performance und deren öffentliche Präsentation. Wir werden gezielt unterschiedlichste Übungen realisieren, die helfen werden eigene Ideen performativ umzusetzen. Im Zentrum des Workshops stehen die Wahrnehmung der eigenen Person und die Kommunikation mittels des Körpers. Selbstwahrnehmung und Selbsterfahrung prägen das Empfinden und den Umgang mit Körper, Zeit und Raum sowie die alltägliche Kommunikation. Es gilt, seinen Körper als Werkzeug zu begreifen und diese Tools in eigenen Kommunikationsräumen anzuwenden. Neben diesem künstlerischen Angebot, bieten wir einige kulturelle Besonderheiten an.
ANGEBOT:
- Entwicklung einer eigenen Kunst Performance unter fachlicher, pädagogischer und künstlerischer Begleitung
- performative Übungen unter unterschiedlichen Bedingungen im Innen- und Außenraum (Schwerpunkte: Körper, Raum, Konzentration, Ausdauer, ... in der Gruppe und individuell)
- öffentliche Präsentation der Performance (Pressearbeit und Einladungskarte) mit abschließendem Fest
- Videodokumentation (DVD, pesönliches Exemplar)
- Dokumentation auf der Webseite von PORT PERFORMANCE
- Kontakt zu Künstlern, Kuratoren und Kulturinstitutionen in Tel Aviv
- Begegnen und zusammenarbeiten mit Gleichgesinnten aus anderen Ländern
- Kontext des Ortes, israelische Geschichte und Kultur
- freie Unterkunft in Tel Aviv (15 Tage)
- Anfahrtshilfe (suchen günstiger Verbindungen, billige Flüge)
● Unterrichtssprache: englisch
● Preis: (ohne Fahrt und Verpflegung) 560 € (910 CHF, 2000 PLN, 8800 EEK, 820 USD)
● Der Workshop wird in unterschiedlichen europäischen Ländern ausgeschrieben und richtet sich an alle interessierten jungen Menschen und jungen Performer (Mindestalter 18 Jahre).
● Der Workshop findet ab mindestens 8 Teilnehmern statt.
● Anmeldeformular per E-Mail anfordern info@portperformance.net oder telefonisch unter 0049 (0)174 1434361, 0048 – 607206416
● Anmeldeschluss ist der 31. März 2008
---
please feel free to forward this mail to your friends, collegues and partners
best wishes and kind regards
Angelika Fojtuch & BBB Johannes Deimling
skype: port.performance
----------------------------------
Clemente Padín comenzará su presentación en el Museo Nacional Centro de Arte Reina Sofía de Madrid del 24 al 26 de Enero 2008, en el evento EL ARTE ES ACCION, comisariado por Bartolomé Ferrando y la coordinación de Hilario Álvarez y Nieves Correa. También participan MATTHIAS JACKISCH (Alemania); JANUSZ BALDYGA (Polonia); ESTHER FERRER (España); JASON LIM (Singapur); IRMA OPTIMIST (Finlandia); CONCHA JEREZ (España); HERMA AUGUSTE (Alemania) y SEIJI SHIMODA (Japón).
En Barcelona expondrá material diverso en la Fundación Joan Brossa, curado por Joan Casellas, del 30 de Enero al 14 de Marzo 2008. En la inauguración se realizará una lectura de poesía experimental en la que participarán, aparte de Clemente, los siguientes poetas: J. M. Calleja, Gustavo Vega, Bartolomé Ferrando, Xavier Sabater, Eduard Escofet, Hilario Alvarez, Nieves Correa, Pere Sousa, Amalia Sanchis, Fausto Grossi, Angel Pastor y el propio Joan Casellas. Finalizará su presentación en España el 1ro. de Febrero con un encuentro de performance en KABARET OBERT.
Tenemos que hacer algo...Clemente otra vez en la cuerda floja...! Escondan las botellas...!
----------------------------------
Centro de Arte Reina Sofía Madrid
26 de Enero de 2008 y que tendrá lugar en el vestíbulo de los Auditorios de la ampliación del Museo Nacional Centro de Arte Reina Sofía en Madrid.
Esta es la primera vez que el Ministerio de Cultura pone en marcha una iniciativa de este tipo con la finalidad de fomentar las nuevas disciplinas artísticas.
El Encuentro Internacional El Arte es Acción tiene como objetivo activar el conocimiento y el contacto entre algunos de los principales performers europeos, americanos y asiáticos, y las personas interesadas en la profundización de esta práctica artística.
Este proyecto estará comisariado por Bartolomé Ferrando, performer y poeta visual español con una larga trayectoria en la participación y coordinación de festivales y encuentros celebrados en Europa, Canadá, México, Japón, Corea y Chile. Actualmente es profesor titular de la Facultad de Bellas Artes de Valencia.
La coordinación del Encuentro la llevan a cabo los artistas Hilario Álvarez y Nieves Correa. Hilario Álvarez es Artista de Acción en activo desde 1993 y ha participado en numerosos festivales nacionales e internacionales. Su actividad artística le ha llevado a la práctica del Mail-Art, la Poesía Visual y Fonética y la Música Ruidística. Desde 1997 coordina la Oficina de Ideas Libres dedicada a la gestión y difusión del Arte de Acción.
Por su parte, Nieves Correa es Artista de Acción que ha trabajado desde principios de los años noventa en la organización y comisariado de festivales y programas de Arte de Acción, entre los que destaca el proyecto Acción! MAD. Su actividad incluye publicaciones y la participación en cursos y conferencias.
El Encuentro Internacional El Arte es Acción contará con nueve de los más notables representantes en activo del panorama europeo, americano y asiático:
Matthias Jackisch (Alemania): Formado profesionalmente como cantero en la Escuela Superior de Bellas Artes de Dresden. Su actividad en el campo de la performance se basa en la experimentación con materiales procedentes de la Naturaleza (fundamentalmente la piedra y el grafito) y en la tensión física que resulta de su combinación con otros materiales como el acero o el papel.
Su trabajo persigue encontrar la esencia de las cosas y el sentido interior de las apariencias en el mundo del arte.
Janusz Baldyga (Polonia): Es uno de los principales representantes de la performance polaca. Usa en sus performances elementos comunes cargados simbólicamente. Sus performances tienen también un componente político, basado generalmente en la forma y en los modos de relación entre los países del Este y del Oeste europeos. Participa en encuentros y festivales internacionales celebrados en Polonia, Bielorrusia, Eslovaquia, República Checa, Suiza e Inglaterra.
Esther Ferrer: Conocida principalmente por sus performances, tanto individuales, como del grupo ZAJ (hasta su disolución en 1996).
Ha realizado performances y ha participado en Festivales en España, Alemania, Italia, Suiza, Bélgica, Francia, Dinamarca, Reino Unido, Holanda, Polonia, Eslovaquia, República Checa, Hungría, Estados Unidos, Noruega, Canadá, Japón, Corea, etc.
En 1999 fue una de las artistas que representaron a España en la Bienal de Venecia.
Jason Lim (Singapur): Participante en diversos festivales internacionales en Japón, Holanda, Australia y U.S.A. En 2006 obtiene residencia artística en el Vermont Studio Center en Vermont (Estados Unidos). Codirector artístico del Festival Future of Imagination 2 en Singapur, en 2004. Ha sido seleccionado como uno de los artistas participantes en el Pabellón de Singapur en la 52 Bienal de Venecia.
Irma Optimist (Finlandia): Junto con Roi Vaara es una de las mayores representantes de la performance en Finlandia. Iniciada en el arte de acción en 1991, sus performances tratan tanto sobre la identidad del sujeto como sobre temas políticos diversos. Son, en ocasiones, intervenciones que tratan de alterar la lógica científica, sublimizada en exceso por la cultura occidental. Las performances reducen la ciencia a la corporalidad, y así, la dinámica de la acción revertirá sobre el cuerpo, y también sobre el sujeto.
Clemente Padín (Uruguay): Poeta visual, performer, videoartista y crítico de arte, Director de la revista Ovum 10 y Participación. Autor de 18 libros, sus textos han sido publicados en diversas revistas de todo el mundo. Participa en todos los foros de poesía visual y experimental. Ha realizado decenas de exposiciones individuales. Como Performer ha intervenido en festivales internacionales celebrados en Uruguay, Chile, Argentina, México, Canadá y Alemania.
Concha Jerez: Artista intermedia. Desde 1976 centra su trabajo en el desarrollo del concepto de Instalación, como obra In situ, en espacios concretos de gran envergadura. A partir de la década de los ochenta amplia su actividad al ámbito de la Performance (con Fluxus como referente principal). En esa misma etapa comienza a desarrollar trabajos conjuntos con el artista José Iges con quien realiza instalaciones, performances y conciertos multimedia. Entre sus trabajos en colaboración, que continúan en la actualidad, destacan los proyectos realizados en el ámbito radiofónico y, recientemente, en Internet.
Herma Auguste Wittstock (Alemania): Miembro activo del Independent Performance Group, colectivo generado por Marina Abramovic. Ha presentado performances en el Festival de Avignon (2005), la Bienal de Venecia (2003) y el Museo de Arte Moderno de Dublín (2001). Sus performances tienen interés en explorar los límites mentales y los límites del público. Su cuerpo es el instrumento y el centro de cada obra.
Seiji Shimoda (Japón): Iniciado en la performance y en teatro experimental en 1970, Shimoda es el referente actual más importante de la performace en Asia. Ha participado en más de 100 festivales internacionales de más de treinta países de América, Europa, Asia y Oceanía. Coordinador de tres encuentros anuales de arte de acción, su trabajo se centra en el intercambio e interrelación de performers de diferentes países asiáticos como Filipinas, Tailandia, Vietnam, Corea y China.
Fechas: 24, 25 y 26 de enero de 2008 (jueves, viernes y sábado)
Lugar: En el vestíbulo de los Auditorios de la Ampliación del MNCARS.
Dirección: Plaza del Emperador Carlos V, s/n. (Ampliación). 28012 Madrid. Acceso por la Ronda de Atocha.
Teléfono de información: 91 701 70 00 Ext. 32562
Horario: de 19'30 h a 21' 00 h.
Con la participación de tres performers cada día. Intervenciones de 20 minutos aproximadamente cada uno de ellos con un intervalo de 10 minutos entre cada acción
Entrada libre. Aforo limitado
----------------------------------
Trasnmisión / Transmission
Perfochoroni III - Venezuela
Enero 4 - 2008 / March 4 - 2008
Colombia 7:00 p.m . Venezuela(Choroni) 8:00pm
New York 7:00 p.m. Buenos Aires 9:00 p.m.
London 12 a.m. Madrid 01:00 a.m. Zürich 01:00 a.m.
New Delhi 5:30 a.m. Seoul 9:00 p.m. Los Angeles 4:00 p.m.
Ciudad Juárez 5:00 p.m. México D.F. 6:00 p.m.
----------------------------------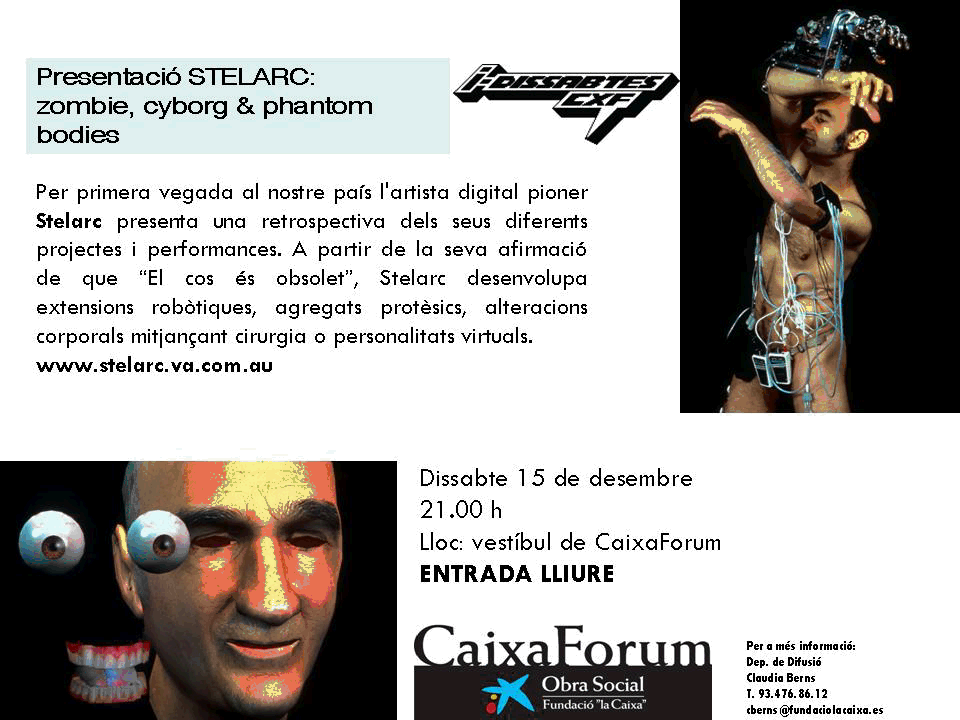 CaixaForum. Fundació "la Caixa"
Av. Marquès de Comillas, 6-8
08038 Barcelona
----------------------------------
EXHIBITION / MEETING / - BERGAMO ITALIA / MONTEVIDEO
Where: SOCIETÀ DI MUTUO SOCCORSO, VIA ZAMBONATE 33 BERGAMO
CONVENTO DI SAN FRANCESCO - BERGAMO ALTA (ITALY),
When: January 10 - 20 2008
----------------------------------
Convocatoria PAS Call PAS Convocation PAS Chame PAS Leistung PAS Citazione PAS
If it does not see, to the previous animation it must go to install flash to player
Si no ve, la anterior animación debe ir a instalar flash player
1024 X 768 PIXEL